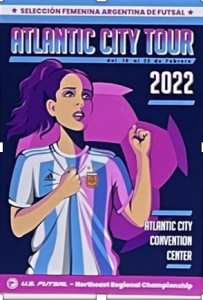 U.S. Futsal welcomes the Argentine Women's Futsal National Team to Atlantic City to compete twice against the U.S. Futsal National Select Team and once against the women's team from Charles County Futsal during the U.S. Futsal Northeast Regional Championship from February 18 – 22, 2022. The Argentine National team is guided by head coach Nicolas Noriega, who as the assistant coach for the Argentine Men's Futsal National Team just recently reached the final of the FIFA World Cup in Lithuania. Head Coach Noriega was also just recently a presenter at the United Coaches Convention in Kansas City.
"We are so glad to have the Argentine National Futsal Women's team here to help showcase women's Futsal at the highest level," said Alex Para, President and CEO of U.S. Futsal. The leadership of the Argentine Football Association (AFA) has heavily committed to expand and improve women's Futsal as it has done with the men's National team that has reached the final of the last two FIFA Futsal WorldCup's. The U.S. Futsal Women's Futsal National Select Team has competed at the highest international level for the last 6 years winning the IFA Futsal World Cup in 2018.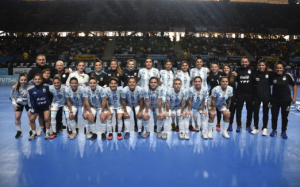 The U.S. Futsal Northeast Regional Championship is the largest Futsal competition in the United States and CONCACAF and is the most competitive Futsal tournament for all ages starting at U8 and going up to the open category for both men and women. This is one of the eight regionals that leads to the U.S. Futsal National Championship, the oldest and most prestigious Futsal tournament in the United States. This year's 37th National Championship will be held at the Santa Clara Convention Center, Santa Clara, California on July 14 -18, 2022.
Futsal is a fast-paced, skill developing sport that is played worldwide. Many of the great soccer icons such as Messi, Maradona, Ronaldinho, have attributed their development to playing Futsal.
Contact: For Immediate Release February 9, 2022
Telephone: 510-836-8733
Email: info@futsal.com